What are the particular benefits to an online program?
Self-paced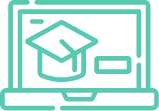 Blended Learning
Flexi Mode
Own Context

Build Friendships
Is an online degree the same as an on-campus degree?
Yes and no. On the one hand yes, an online degree is the same as an on-campus degree in terms of the degree award, the learning outcomes, the course content, the tutoring, and the assessment schedule. On the other hand, it is clearly not as both are very different. While there is an advantage in learning together in a closed-knit community and living together with fellow students, not many people today can afford to leave their jobs and enter seminary for a few years for full-time study. Commitments, mortgages, and financial obligations may prevent people from quitting their jobs. It is not a case of which program is better as each have its own uniqueness and distinctiveness. There are clear advantages too to study for a degree online.
Who teaches and grades the courses?
The online courses are taught by qualified academic lecturers from abroad. Video recordings of their teaching are uploaded onto our website. The courses are guided and graded by qualified facilitators engaged by Tyrannus Online Seminary.
Occasionally, physical classes are held in the Tyrannus centre or in local centres. These courses are taught by qualified teaching staff which are either local or visiting lecturers.
How are the online courses graded?
The online courses are assessed based on coursework submitted throughout each term. A typical online course will consist of short written questions (review and application questions ranging from 300-370 words per question) and a single long assignment (1,500-1,800 words). The total amount of written work will be between 7,000-7,500 words per 4 credit hour module. There are no written examinations (except for language courses like Biblical Greek and Biblical Hebrew).
Do I need a good internet connection?
Normally yes. Since the program is offered online and uses videos and podcasts, one should have adequate internet bandwidth and speed to enjoy the full quality of the videos. Nevertheless, most of the courses have workbooks and even transcripts of the video lectures and video forums so that even if you have low bandwidth you can still keep up with the classes.
What sort of device will I need?
You should be able to access your course materials like videos and podcasts and communicate with fellow students and course facilitators on multiple devices, including personal computers, tablets, and smart phones.
Do I need to be a computer expert?
Normally not. We live in a digital age where basic computer skills are already a part of life. For some, it may take it little while longer to adapt and adjust to online learning, for others, it will be a breeze. Assignments are done with the word processing programs and submitted online. Hence, knowledge of word processing programs will be a plus. To access and view videos and podcasts, the usual video programs like VLC or Window Media Player will suffice.
Will I need to have access to a physical or digital library or will I need to purchase books for individual courses?
Tyrannus centre has a small physical library where one can access good theological books for your research and writing. We are also developing a small digital library with the necessary e-books for the courses. Each module will come with resources packaged with it. These will include scanned pdf files of articles or books for your reading. Links to external sources are also provided so that students can access the huge array of e-books and electronic journal articles available on the internet.
How much will the online Tyrannus BTh/DipTh cost?
Please refer to the fee structure. Each module costs RM 450 per 4 credit hour module. For a 2 credit hour module, the cost is RM 225. The total cost of fees for a Tyrannus BTh is RM 12,150 and for a DipTh the total cost is RM 8,100.
The actual cost of running the full program is greater than the fees charged. The balance is met by generous donors and partners. We invite you to join and partner with us if you wish to join us in this vital ministry of equipping God's people with a god basic theological education.
Is the online Tyrannus BTh/DipTh right for you?
The answer can best be answered by you. If you are looking for a basic theological education on a flexi mode of study, with blended learning, and self-paced, then the Tyrannus BTh/DipTh may be just right for you. Please do not hesitate to contact the office for further details.
Email: tyrannusoffice@gmail.com
Tel: 603-7984-5555; 603-7972-6638.